Sometimes buying a watercolor paper can seem like a minefield. Even if you have sorted out all the criteria of what paper to get there is still what brand to buy. There are so many to choose from. This can be daunting even with all the reviews. So which one is best? 
After trialing the popular brands of watercolor I decided that Arches is the best brand of watercolor paper. When you buy Arches you are not paying for the name but the quality of the paper. However, Arches are also the most expensive paper and there are a lot of great options for artists that want great paper but cannot afford or are reluctant to pay so much for Arches.
So now we are in a dilemma. With watercolor, the paper is the most important thing you will buy as a watercolor artist. You cannot skimp on it. And Arches are the most expensive paper you can buy. Not everyone wants to or feels comfortable with that. There are options and I discuss these below.
These three are my go tos for watercolor paper if you are in a hurry. Below I have also outlined why I have recommended them in detail if you want to learn more.
Arches Watercolor Paper 140lb Cold Pressed. Made in France. A High-quality watercolor paper, the undisputed leader in the field. The most expensive paper to buy. Available widely all over the world
Legion Stonehenge Watercolor paper 140lb Cold-pressed. A USA watercolor paper Stonehenge is designed to rival the expensive papers like Arches. Much more affordable but good quality. More available in the US but can be sent to and found in other countries like the UK.
Saunders Waterford Watercolor Paper 140lb Cold-pressed. A beautiful quality British made paper. Available in Europe, International delivery is available.
I have recommended these three brands because they are all quality brands that I use myself so I know they are good. Others I tried do not compare although I have not tried nor have access to every brand on the market. Each one has different properties so will suit different artists or projects.
*I have recommended 140lb cold-pressed as this is the best all-round watercolor paper and most popular with artists. Get good with this then branch out to the others if you need to.
Best 100% Cotton Watercolor Paper Brands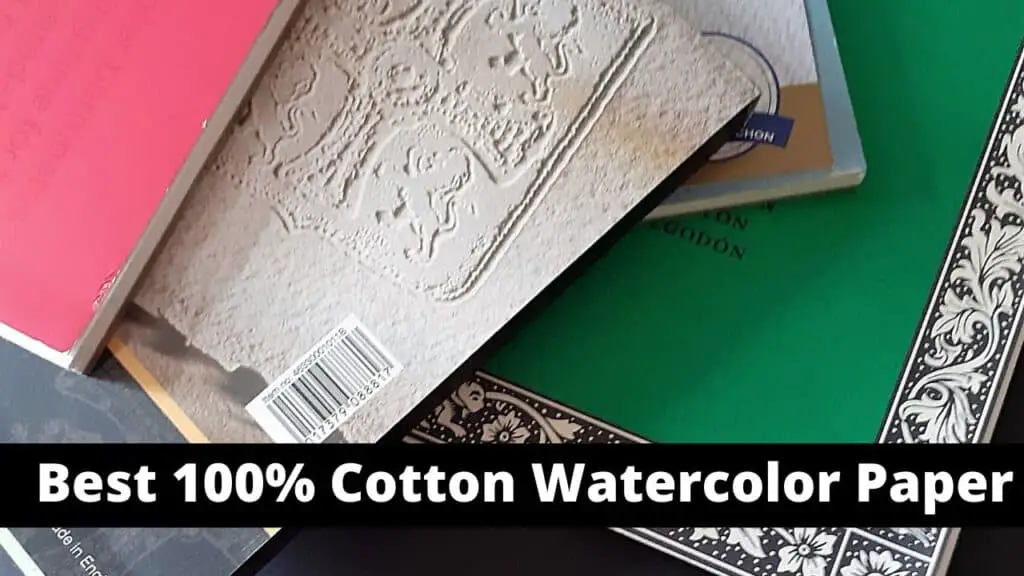 Arches Watercolor Paper, The Leader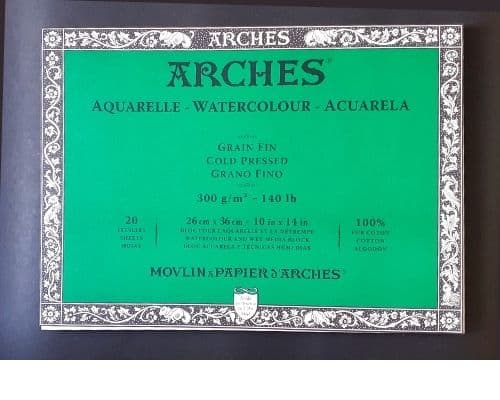 Arches are considered the leader in watercolor paper, the best, the one to get. Hailed by artists professional and amateur alike worldwide. 
But should it be? Is it as good as they say or are they winging it on reputation?
I didn't want to, but I have to admit everything about Arches exudes quality. From the moment you pick up the paper to the first dip of your brush, you feel like you are holding something special in your hands.
Like many people, I held off buying Arches especially understandable at the moment where the prices are volatile and change dramatically.
So why then do people pay out for it?
Arches has a history dating back to 1492. Its website exudes quality and history and so does the paper.
When you compare it to the others there are few papers that even look as good a quality.
Maybe it's all in the presentation but you know care has gone into creating this paper by just looking at it. I use the block 140lb cold pressed paper. When you open it it has an elegant black cover to protect the paper. When you slice that paper away with your pallette knife/letter opener it comes clean easily without damage to the paper.
The way the water reacts to the paper is completely different from the cheaper brands. It's so much easier to create soft edges and the way the paint flows is much better. It's super tough and will take a beating. This is important as although watercolor looks delicate some of the processes, like masking and scratching the paper are very harsh and can damage weak paper.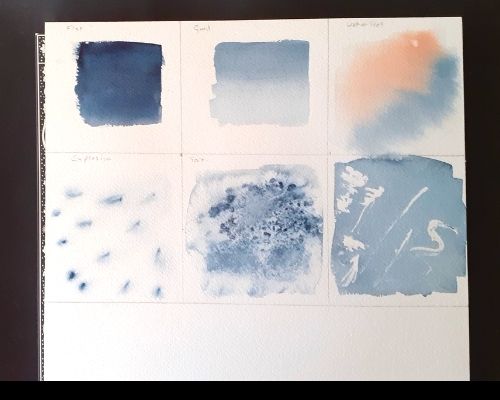 Pros of Arches Watercolor Paper
Arches is a tough paper and will take almost everything thrown at it. It is, without a doubt, a high-quality paper.
It is very good for masking fluid use (140lb and 300lb cold-pressed). You can see from the image above (bottom right No 6) that masking fluid works well and comes off easily without ripping the paper. vital if you want to use masking fluid for flowers, landscapes, or cat whiskers.
The paper doesn't rip easily.
The paint flows beautifully. You can see the different washes (above 1, 2, 3). The flat wash is nice and even, the graduated wash has smooth transitions. The wet on wet wash has a lovely flow and spreads out evenly and beautifully.
The paint does not pool on the edges casing harsh lines the way other papers do.
Salt works well. I used salt here (No 5) large sea salt crystals and small table salt crystals. You get some great designs. Salt is a bit difficult to remove but does come away without paper damage.
They cut the paper by hand, check it by hand, and give it vigorous testing. 
When you switch from non cotton to Arches its really noticeable.
Cons of Arches
It is expensive for beginner artists who will get through a lot of paper
Some people may be inhibited when using it for fear of wasting paper due to the quality and cost.*
* This is what I have heard many artists say. In some cases, this will be true. What I found when I used it was my artwork improved because I was taking care of what I was painting and valued the paper more.
7 Ways to Save Money When Buying or Using Arches Watercolor Paper
I have seen Arches at between 4 and 8 times the cost of the equivalent size and type paper in other brands and what I paid for it. Now, I don't care how good it is there is no way I would pay that for it, simple as!
If you have your heart set on Arches what I recommend is that you do is look for alternatives to getting and using it that will save you money:
Wait for the price to come down if you can. When there is better availability of Arches (in some stores) the price is lower.
Use a lower cost paper for practice and Arches for your better pieces.
Bulk buy when it is on offer.
Buy a bigger paper and cut it down. Most people don't do super huge watercolor paintings. (Don't buy blocks for this)
Use the back of the paper so halving the price. It will react slightly differently but is perfectly usable.
Buy paper pads and not blocks. Blocks are fantastic and so easy to use but they do put the price of the paper up a bit.
Buy 140lb cold-pressed. Don't get the lighter 90lb one because it's cheaper it's not as sturdy and doesn't give for 300lb as it costs more.
Buy in specialist art stores sometimes they don't hike the price up.
Legion Stonehenge Watercolor Paper An Excellent Economical Choice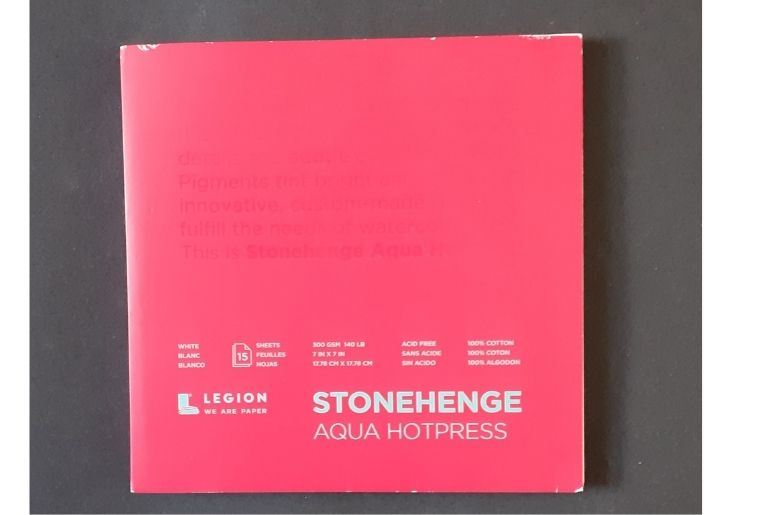 I love this paper. It is fantastic to use. It performs well on all the main watercolor techniques. It's the only paper I've had this reaction to and I wasn't expecting to even like it.
I had decided to explore new watercolor brands as they are all slightly different. Stonehenge had been recommended as a quality 100% cotton paper that is great value and very good for techniques so I decided to try it to see if it was as good as they say.
I admit I have overlooked this paper and taken little notice of it. I wasn't convinced when I bought it and was expecting to hate it. So much so that I didn't even give it a fair chance. This is what happened.
I picked up the paper one evening and was so prepared not to like it I wasn't even really paying much attention. I used old paint and a bit of new from my pallette, shoved a bit of water into a container while watching YouTube videos. 
I did a quick sketch of a pansy (while still watching YT videos), not even accurate and started to paint taking no real notice of the paper. 
It was – 'Oh, actually this paper isn't bad.' 
Off went the videos. 
I decided to do a quick test of the main watercolor techniques. The pansy ended up in multi colors and techniques while I explored the paper. 
The pansy looked an absolute mess. By the time I'd finished I was convinced that this paper was actually great. It does everything a watercolor paper should do very well and is an absolute dream to blend. I love it.
Pros Of Stonehenge Watercolor Paper
It has outstanding blending ability.
The paint lifts off the paper well.
The paint does not go to and pool at the edges leaving those irritating dark lines.
Wet on wet techniques works well. The colors mingle beautifully.
The paper does not tear easily.
Tt's great for vegans as it is synthetically sized so it's one of the few papers suitable for them.
Available in pads, blocks, and sheets.
Great value for money as not as pricy as some of the other brands.
I also like the fact it is a cotton 100%, acid-free, chlorine-free paper that is also great value for money which is often not the case. It's not too expensive and of good quality.
Cons Of Stonehenge Watercolor Paper
Some artists have issues with the masking fluid tearing the paper. I had an issue with the Hot Pressed paper tearing while using masking fluid.
Not available everywhere but can be ordered in.
Stonehenge does on occasion pill if overworked. (The paper comes off and is damaged).
St Cuthberts Mill (England) – Saunders Waterford Watercolour Paper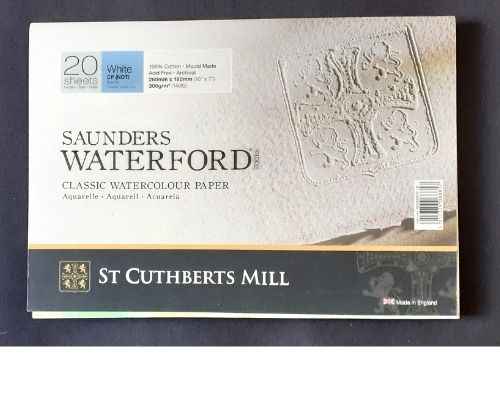 Saunders Waterford watercolor paper, like Arches, is a top-quality watercolor paper. It is made in England at St Cuthbert's Mill since the 1700s.
This is another paper that when you pick it up you know it is made with love and care. The quality speaks for itself. I also love that they work with nature.
St Cuthberts Mill makes many different types of quality papers. For our purposes, we only need their watercolor range which is the following 
Although this page is about 100% cotton watercolor paper if you are really struggling with getting that St Cuthberts Mill also does a very high-quality pulp range called Bockingford. I also use this and it is very good and similar to Saunders Waterford. Although it is more economical and easier to buy in Europe.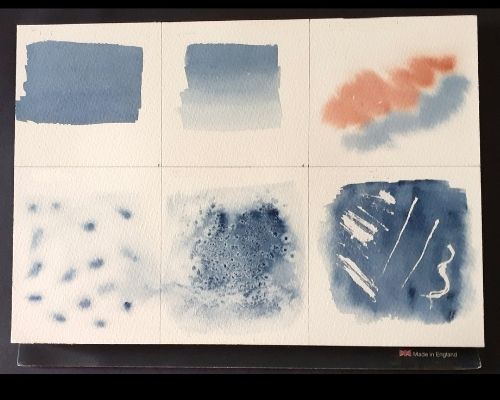 Pros of Saunders Waterford Watercolour Paper
A very good paper for the price
High quality
easy to remove sheets from the block without tearing.
The 140lb takes masking fluid well (see example 6 above)
Salt gives some great effects. (No 5 above)
The spread of wet on wet is very good but not as flowing as Arches. (No 3 above)
Good even paint on a flat wash (No 1)
Reasonable graduated wash.
Comes from a quality paper mill not bought out by larger mills.
Made on the traditional cylinder mold.
Cons of Saunders Waterford Watercolour Paper
Readily available at a good price in Europe, available in the US in some art stores, however, more expensive.
Sometimes the sizing stops the color from absorbing into the paper.
How Do You Decide Which Brand Of Watercolor Paper to Go with?
If you can, go with Arches. If you can't don't buy it. Don't feel pressured into it just because many artists say get only that paper.
I know this is a controversial point of view. While what artists say is right. Arches are the best and using rubbish paper will slow you down or stop you as an artist. You do need a good paper so that you know it's your technique and not your paper that is causing the issues. I'm not disputing that. I've done just that and it really does cause issues with your learning progress. I struggled for years because I couldn't buy expensive watercolor paper.
All I am saying is that if you can't run to Arches don't let that stop you from being an artist. Don't go for cheap rubbish either. There are a lot of options between the two extremes. I have seen some fantastic artworks on quality, cheaper brands. Don't overlook those brands that are only or mostly available in your country.
Note though, if you can do make sure you go for 100% cotton. The way it reacts to the paint will make a huge difference to your artwork. If not go for the best brand you can.
Also if you are planning to do line and wash many artists don't see it as necessary to buy the more expensive paper, they still go for 100% cotton but just the cheaper brands.
The brands I recommend here are excellent. Try those, but remember that whatever paper you buy it's not forever you can always experiment with different paper later on.