Buying a palette can seem easy and it is but there are some things you should know before our invest your money in one. I have used lots of different palettes over the years. The ones here are chosen because they fit the criteria for the ideal palette.
Palettes are an essential part of watercolor painting. There are lots to choose from. You can buy round, rose, daisy, flat and lidded rectangular shapes. Each shape has its uses. But there are some important features in a palette that make painting easier. The best palettes will be easy to use, easy to load pans have plenty of mixing and storage space. Lid and pan functions are better if you want to store your paints
Here I am looking at the lidded rectangular palettes as these have the best all-round functionality.
These Are My Top 3 Picks for Watercolor Palettes
My ultimate to have in this style palette is the Meeden. This fits all of the criteria for a good all-round palette and it is great value for money.
For those that like top quality and are willing to pay the price is the Schmincke Horadam Aquarell Empty Pan Paint Set for 24 Full-Pans or 48 Half-Pans. This is a top-quality, well-known brand. This is like the Meeden only on a higher level. What makes it worth the extra money in my view is the anti-rust case which is a concern for me with the metal palettes. This means they should last a lifetime.
My budget option would be PRO ART 3333-031Pro Art Large Folding Palette Box. Or one similar to this. I have a few of this style in different sizes and brands. They work really well and are a great budget option. If you get beading of your paint simply rub down with an eraser or non-scratch sponge.
Best Empty Watercolor Palette
Why I Chose the Meeden Watercolor Palette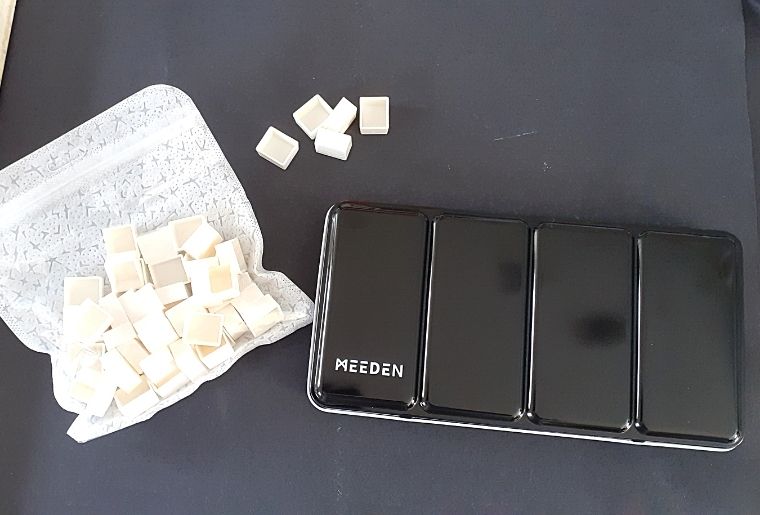 I chose the Meeden because it has the best watercolor layout it fits my criteria and has a lot of positive reviews.
The overall price is good. It isn't top of the range costs and it is easily lowered or hired depending on your choice of pan quantities.
It has a fantastic layout that is functional, practical, and easy to use.
It has a lid and plenty of mixing space.
It has two pan sizes 1/2 and full which is very unusual and gives it more flexibility than the fixed pan options.
It is a good size and not too large or small.
I like that you can keep your pans in the palette after use. This isn't something I have done in the past but am finding it more useful now.
The pans are removable and you can switch them around. This is vital if you are changing or adding your colors.
You can use different manufacturers' paint in it which is essential if you don't use all the same paint. Which I admit I don't.
There is plenty of mixing space on each side of the palette. I'm terrible for messy mixing so lots of space is essential.
If I were going to buy a new watercolor palette I would not buy the same ones as I have in the past. I always buy the cheaper ones and although they work fine it really doesn't pay. The cheaper ones are brittle, I had one break the first time I used it. 
The Best Watercolor Palette Layout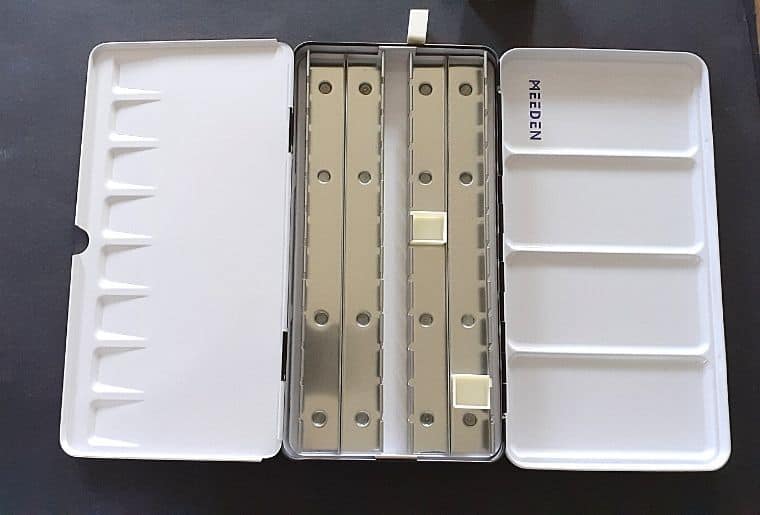 The layout is important when you are buying your watercolor palette. There are quite a few styles of the layout to choose from. Every artist is different and has different needs. However, there are certain things we all need, this layout serves that.
I have a few different palettes in different layouts and sizes. They all have their advantages and disadvantages. My favorite layout is the rectangular palette with spaces for your paints and plenty of mixing space.
Although I admit that I normally use that and more while painting so usually keep a couple of backups handy as well.
Pros of the Meeden Watercolor Palette
The first thing I noticed (yes, I caved and got one, lol. This is mine here in these pictures before I messed it up with paint) about this palette was the weight.
I'd only ever used plastic palettes before. This is quite a bit heavier than the plastic ones. Not an issue for me as it will be on the table where the weight of the palette is an asset as it makes it more stable. However, something to think about if you hold your palette in your hand while you paint.
It's a good size ( 21.5cm long x 11.0cm wide x 2.0cm high closed tin dimensions), big enough to hold everything you need and small enough to be portable.
It has 3 good sized compartments for mixing. Who knew? I only thought it had two but while trying to fit the pans I read up on it and it said to remove the center metal part. I did and there it was a whole other section. You can never have too much mixing space.
It has a lid. So important when you are painting if you want to leave your palette ready to use later.
It holds 48 half pans or 24 full pans. This is way more than I have ever needed, so a bit of overkill. But what I intend to do is use different brand paints in different sections as I will be using different brands and color combinations for different styles of painting.
These are great if you want to use tubes and keep the color out or if you want to mix your own colors and keep a lot to hand.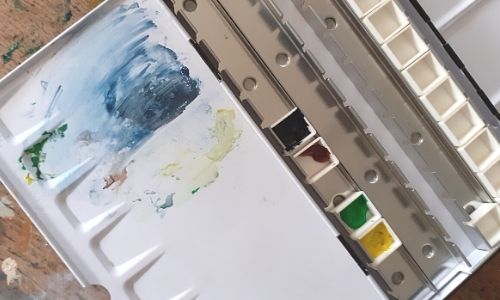 The pans can easily be removed for cleaning or just moved if you want to move, add or remove colors. This is a huge help as it has been a pain in the past where you are stuck with your color layout once you have put the paints into the slots.
It has a ring to hold the palette underneath (see pic). I was a bit concerned that this would make it wobble while on the table, but it doesn't. The ring area is shaped so it doesn't stick out.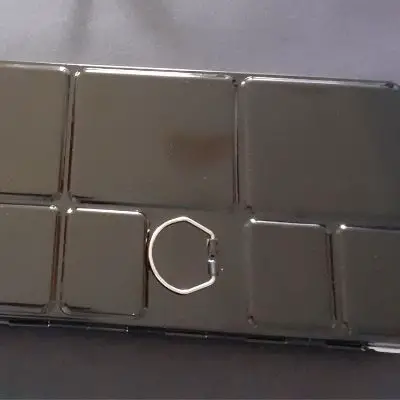 Note: the smudge is a reflection and not on the tin. The tin is highly reflective.
The watercolor paint doesn't bead on this palette as it does on the cheaper plastic ones. It sits well on the metal and mixes easily.
Cons of the Meeden Tin Watercolor Palette
A couple of the edges are slightly sharp. I hadn't expected this. It's not too much of an issue as they are not the main ones and only on the corners where you hold and use the palette. As the cost of the Schmincke Empty Pan palette is so much higher this is a small price to pay.
The pans don't fit properly. They rattle about. Now you can bend the metal holder to fit them. I haven't quite managed that yet but solved the issue by adding an extra pan to the ends. While painting though you don't really notice it even with only a few filled.

If you already have pans check your pan sizes. my Winsor and Newton pre-filled pans are much smaller and would never fit this palette.
Not a big issue, but the pans cracked me up. They sound like old scrabble pieces.
Features and Functionality to Look for in a Quality Watercolor Palette
Stability is vital. I have had palettes that rock when you use them because they were cheap and didn't open flat properly which is very annoying.
Plenty of room for colors. Some palettes are more just for mixing and have no clear color space. It is great if you like to add your colors to the side and then mix them and clean out the palette when done. If you want your colors permanently placed on your palette in order this doesn't work.
Ability to have and ideally move your pan colors. If you wash out your colors after every use this isn't needed. But if you want to have a more permanent layout you need to be able to move your colors around. Either because you add more colors and need to insert them into a specific slot or because you paint different types of subjects and need different palette layouts for each. You can also have fixed pans and more palettes.
Plenty of paint color slots. While you start with only a few colors and can mix them usually artists end up with more colors. It is easier to have a pre-mixed color if you use it often. This is important whether you use the tube or pan colors, as often artists use tubed colors and add them to pans to make them into pan colors (it depends on the pants you use if you want to do this not all paints work as well for rewetting them)
Plenty of mixing space. Some palettes have a lot of mixing space while others have very little. It doesn't matter whether it is a large space one side or two spaces on either side. What matters is there is enough although you can always use a second palette if you need to.
If you are going to hold your palette you need a hole or ring to hold it. Note to lefties: If you are like me and left-handed sometimes the holes/rings don't quite sit in the right spot. But you can still use the palette.
The size of the palette is important. If you want to use it indoors only you can have a bigger palette. If you want to use it outside and carry it with you you will want a smaller palette.
Lids. I have lots of palettes without lids and this works fine. But recently I have gone over to lids because I have different projects on the go and want to keep the paints for later. It's really about how you work. Again if you want to keep your watercolors fresh for later you need to have them covered.
Anti beading. I would ideally want something where the paint flowed and did not bead up into a small pool. Or something where beading could easily be stopped.
Gently sloping edges for easy brush use. They also protect the brush wear.