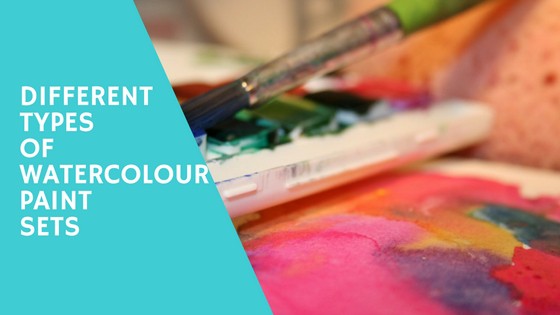 There are many different kinds of sets and while some are great for all artists others are more specific to a particular need.
There are several things to consider when deciding if you want to get a new set.
Who are you getting the sets for?
What is their preference: Tubes, pans, half pans or pencil?
Tubes or Pans (Watercolour comes in either tubes or pans (full or half).  The sets can be in either)
What are the artists or your specific needs?
Beginner, experienced or professional level artist
The quality of paint, student or artist/professional?
Price, are you willing to pay more for the better paints?
The Advantages and Disadvantages of Buying Watercolours in a Set
Sets will usually have the most basic or commonly used paint colours in them.  These often consist of a red, yellow, blue, black and often a couple of earth colours.  Sometimes they will have a green.
There may also be sets that have specialist colours like blues sets or sets suitable for wildlife painting for example.
These are great for beginners as they will not either have or know what colours to buy.

Small Field Sets Are Great For Being Out and About
Watercolor is a great medium for fieldwork as it is easy to transport, lightweight and dries quickly.  There are many fieldsets available that are great for all levels of artists.  The great thing about this is you can remove the colours to take what you need with you.
Most artists will need a small field kit at some point.  I have had mine for an eternity, back in the day where they came in a nylon case!
The Winsor and Newton 12 Color Field Set in a Box
This is a great set for all artists on the go.  Those who like to get out and about to create their art.  Perfect for a day out at the harbour or forest or hills.  A very compact and portable little set.  It is high quality as you'd expect from Winsor and Newton.
Winsor and Newton have thought of everything that you will need while out painting.
Has it's own built in water container making carrying water easy and making sure you never forget it
It is quite strong and compact making it even more ideal for portability
A great range of colours 12 in all
On-board mixing trays for lots of mixing space
Also great for travel abroad due to pans being easier to take with your on a plane
Useful brush that telescopes out
Winsor & Newton Cotman Water Colour Field Box set of 12 Available on Amazon
The Tin or Box Sets Great for the Beginner and Experienced Artist Alike
A tin or cardboard box set is great for a gift as it looks great but does not cost as much as a wooden set of quality paints included.
As with anything that is lower in price, there are some parts that are designed to save money.  The wells and plastic are not as sturdy as the more expensive ranges.
Have both pans and tubes which are great to experiment with
These tins are great for beginners as they have everything included in the tin
The paints are good quality for the price
Great for both experienced painters and beginners alike
People have bought this for older children and adults
A good range of basic colours and tools
Royal & Langnickel Large Tin Watercolor Painting Art Set on Amazon
Luxury Wooden Box Sets
Wooden box sets always add a feeling of luxury, quality, and history to any paints.
This set is meant for artists with experience.  Those who appreciate the history ad background of the watercolor paint and the maker. If you know Winsor and Newton then you know they don't need expensive boxes to show off their products or make them seem better.  Their painting products are already top quality.
Adding the strong wooden box with brass fixtures adds a touch of class or luxury to what is already a quality product. With sable brushes and a porcelain mixing palette, this is that something extra.
Careful of who you choose this for as it is not for everyone.
While portable, it will not suit the artist who wants to carry a lightweight kit around, nor is it really a beginners box either. This set is for the artist who has everything but would appreciate that little bit extra.
Quality artists colour box set
A Luxury Item
14 professional watercolour tubes of paint
Not suitable/lightweight carrying
A beautiful porcelain palette