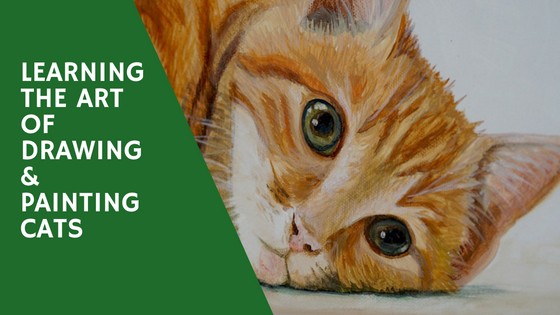 Drawing and Painting Cats is a Book Born of Passion. This book is amazing.  If you want to paint and draw any kind of cats you will not be disappointed.
I got this book for Christmas and was lucky enough to get it signed by the author.  I belong to Vic Bearcroft's Facebook page so I watched the book progress over the months and there was a huge amount of work involved.
I am passionate about all things cat and have wanted to paint them for some time.  But as with most things, time and other commitments got in the way.  Not to mention not really knowing where to start.
Vic's book is stunning.
What I love about this book is the cats (at least the small ones) all belong to Vic Bearcroft.  They are all his studio assistants.   He clearly loves all animals and has around 12 cats of his own, many are rescues.
When he creates a picture that passion, that love shines through.  Which is maybe why is is an award-winning artist of wildlife.  You can tell this book was created with that passion.
So What is Covered?
The book shows you the basics of how to capture a cat quickly so that you can capture your own cats or the local big cats in action.
It then goes on to show you four different mediums and the techniques needed to paint your picture in each of those mediums.  The mediums he covers are watercolour, acrylic, pastel, and ink.  You are given mini projects to practice and then one final project in each of the four mediums.
Which Medium Will You Like the Best?
All the pages and projects are beautifully illustrated and explained.
You may surprise yourself as to which one you like the best, I know I did.
I thought I would love the pastels and acrylic the most.  While I do love them, I was surprised to find that it was the Indian ink paintings that really drew my attention.  I was not interested in doing ink at all until I saw these pictures.  They are absolutely stunning.  They have an air about them that is almost surreal yet real at the same time.  And they have so much depth and feeling.
Maybe that is just me and you will be drawn to others of the paintings or mediums.  I guess it depends on mood and taste.  But, I certainly changed my mind when I saw the Phoebe and Ruby Roo pictures.  (Rather annoyingly I had gotten rid of my Chinese brushes and ink which I could have used- sigh! I really should know better.)
The little kitten looking up at the cat is just so adorable!  It makes your heart melt.
Anyway, back to the review.  Each of the projects is step by step so you can be confident that you can proceed with some success even if you haven't done this kind of art before.
It seems that Vic has chosen pictures that are reasonably easy to do.  I started with the watercolour picture of Phoebe and was surprised to turn out something reasonable, not brilliant, but reasonable.  With watercolour definitely NOT my forte, I was really pleasantly surprised.
Next is the Pastel Painting
Vic has a way of breaking down and explaining how to paint the pictures that makes a complex subject much simpler to understand.  I have had some of his pastel videos before and have always found that his methods produce results with a bit of practice.  As with anything, it takes practice.
Why it is Difficult For Me to Write this Review
I am actually finding this review quite difficult to write because normally if I do a review I like to tell people as much as possible, both the good and the bad to compare.
But, although I want to tell you everything, I don't want to spoil the excitement and joy of exploring these pages for yourself.  If I say the pastel picture is of X cat then you miss out on that experience for yourself.  And that would be so sad.
Drawing & Painting Cats: Wild and domestic cats in acrylic, watercolour, ink, pastel and pencil from Amazon
The Down Side
It is really hard to fault this book.  Some parts I like more or relate to more than others naturally.
However, I guess I have gotten used to the Learn to Paint series of books that allow you to be a bit lazy and give you outlines to save you sketching everything first.  This is great if you are copying another artists projects from a study book to learn their techniques.  Most books don't do it and neither does this one.  With a seemingly permanently jammed shoulder not having to draw things first, would help a lot.
Was It Worth It?
Other than that I can't really fault the book at all.  Sometimes when you look forward to something for months it doesn't live up to your expectations which can be worrying. When I opened this book I was not disappointed, it held up its promise.   So yes for me it was.  I put my review on Amazon and it looks like all the other people who gave a review were equally happy with it.  Well, worth 5 stars.
Drawing & Painting Cats: Wild and domestic cats in watercolour, acrylic, ink, pastel and pencil on Amazon