Making green paint without using yellow gives you some exciting mixes and a large variety of greens.
There are different ways you can make green paint without using yellow. Some of these use greens while others use other colors. You can mix a surprising amount of colors to make green. Below I have gone into detail with examples of the different color mixes that make green.
Green is an exciting and vibrant color. It has seemingly infinite options to mix all types of green from ones leaning towards yellow, or blue to greys. Whatever green palette you want there is something that will suit your needs.
About Green
What Colors Make Green? It's (Probably) Not What You Think!
There are different ways to get green without using yellow. Although the traditional way is option 1 to mix yellow and blue.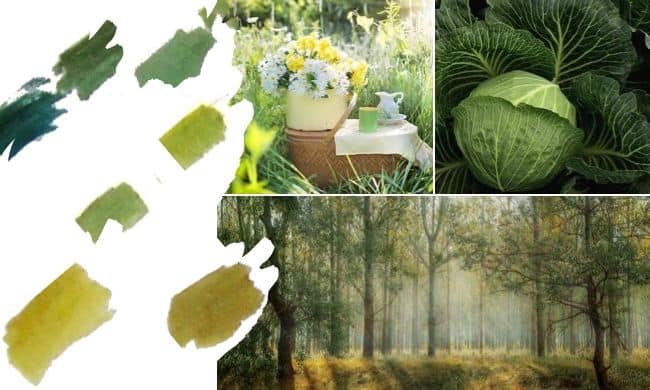 Mix yellow and blue.
Mix yellow and black.
Mix colors that are neither green nor yellow together to make green. (I love this one).
Add colors to a pre-mixed tube or pan-green.
This gives a large variety of colors to choose from. There is everything from vibrant greens to pale or muted greens.
As there are plenty of how-to mix green posts and videos, this post is purely about mixing green without yellow. It explores only options 3 and 4 above. 
Even so, I have mixed nearly 100 different greens all without using yellow (not even yellow ochre).
Ways to Increase Your Green Palette Even More
In addition to this, you could add white or water down your greens for even more options depending on your medium and your picture. 
While I have added some 3 color options many of the 2 color options can also be adapted by using a complimentary 3rd color. This gives you even more greens or darker shadow areas.
Another option would be to buy different greens to start your base color from, or more blues, etc. This increases your choice even more.
You can use yellow (not shown in this post). There are different yellows by including these you can have almost infinite greens.
Make Exciting Greens Without Using Yellow or Even Green!
I love doing this. Even when you know the theory behind it, it still feels like magic. OK, it's a slight cheat. Of course, you need these colors in the mix – somewhere. But it's still fun.
For this project, I have used watercolors. You can use Acrylic, oils or gouache, etc if you prefer
The colors I have used to mix greens without yellow in this post are: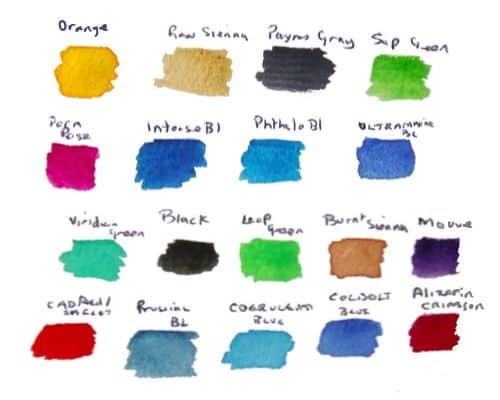 Orange to Green Mixes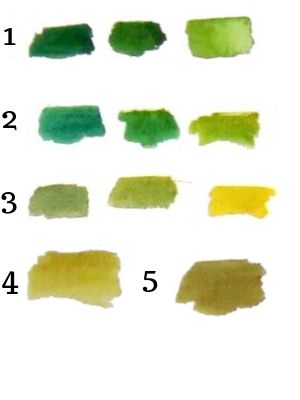 Orange + Intense Blue (phthalo blue) **
Orange + Phthalo blue**
Orange + Ultramarine Blue
Orange + Paynes Grey
Orange + Black
I used a pre-mixed Daler Rowney Orange (636) for this section. This can be exchanged for Daniel Smith Permanent orange, Schmincke orange, etc., whichever brand you use.
**Winsor and Newton Intense Blue (also Phthalo blue) and Phthalo blue are two different blues from different manufacturers. Both were used throughout. It's interesting to note the differences in the results.
Raw Sienna Plus Blue, Black or Grey to Make Green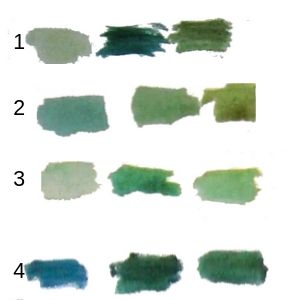 Raw sienna + Intense Blue (phthalo blue) 
Raw sienna + Prussian Blue
Raw sienna + Cerulean Blue
Raw sienna + Phthalo blue
Note: I have used blues I have available. If you have different ones. Try other blues if you have them in your palette.
Make Green Without Yellow But Using Green
I have heard it said that you can get only dull muddy greens by using a tube or pan-green to start with. I do not feel that is the case. Mixing this way gives a large variety of greens to choose from. Some are more muted or natural, which is often what you want. While others are more vibrant.
Sap Green Mixes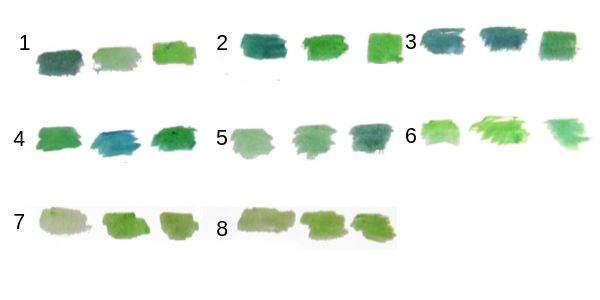 Sap Green + Ultramarine Blue
Sap Green + Intense Blue (Phthalo Blue)
Sap Green + Prussian Blue
Sap Green + Phthalo Blue
Sap Green + Cobalt Blue
Sap Green + Cerulean Blue
Sap Green + Alizarin Crimson
Sap Green + Rose Pink
Please note: that I am using Winsor & Newton Cotman watercolors range their sap green is lighter than some of the other brands. 
Viridian Green Mixes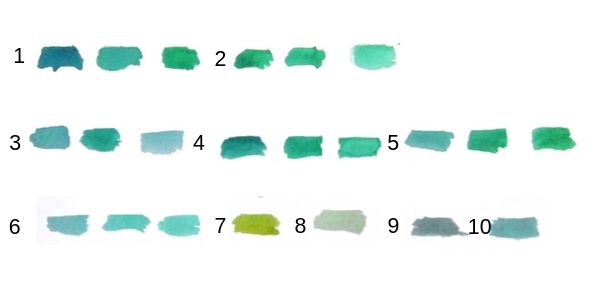 Viridian + Cobalt Blue
Viridian + Cerulean Blue
Viridian + Ultramarine Blue
Viridian + Intense (Phthalo) Blue
Viridian + Prussian Blue
Viridian + Mauve
Viridian + Orange
Viridian + Sienna
Viridian +Cadmium Red
Viridian + Paynes Gray
Viridian item *8-10 didn't transfer color well to the computer. 8 is very gray-green. 9 is virtually gray and 10 gray blue-green.
Be very frugal with viridian green. It is very powerful. Use sparingly as it easily overwhelms other colors.
If you find the color too intense you can dull it down with a complimentary or Payne's grey, etc.
If you don't have Viridian you can replace it with Phthalo green. They are similar.
Leaf Green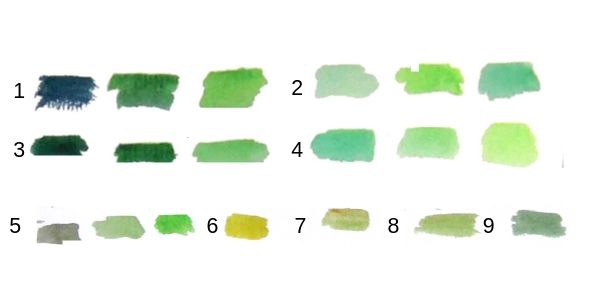 Leaf Green + Ultramarine Blue
Leaf Green + Intense Blue (phthalo blue)
Leaf Green + Prussian Blue
Leaf Green + Phthalo Blue
Leaf Green + violet/mauve
Leaf Green + orange
Leaf Green + Raw sienna
Leaf Green + Cadmium/Scarlet Lake Red
Leaf Green + Paynes gray
If you Here I use Daler Rowney's leaf green 355. I got this because it was recommended by one of the SAA artists for landscapes. It consists of PY3/PG7 pigments PY3 (Source) is a light green-yellow and Pg7 is Phthalocyanine green. It makes a great addition to natural greens as well as some lovely vibrant ones. don't have access to leaf green you could use permanent green.
More Color Variations, Green + Green +
If you have lighter and darker greens or yellow and blue greens you can also try these out with or without the other colors mentioned here to add even more variety.
3 Easy Practice Projects For Mixing Greens Without Using Yellow
Project 1 – Practice Your Mixes
Use the above colors to practice your green mixing.
If you have different greens or blues from the ones used here mix them to see if you can extend your green palette even more.
Project 2 – Create Green Without Yellow Practice Forest Greens Picture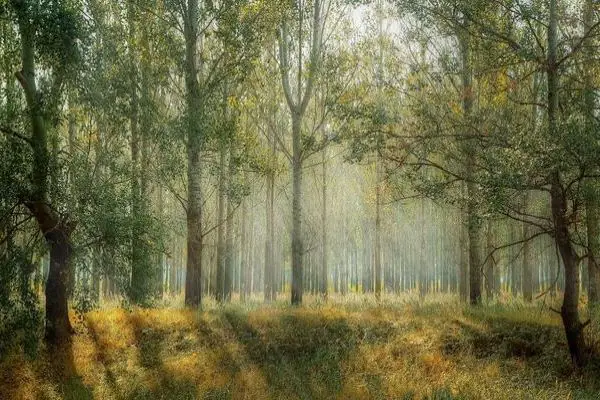 Use this picture to practice forest greens.
Where there are golds instead of yellow use the yellow-green mixes.
Click here if you want to download the line art for this picture to use as an outline.
Project 3- Peas in a Pod – Vibrant Green Practice Picture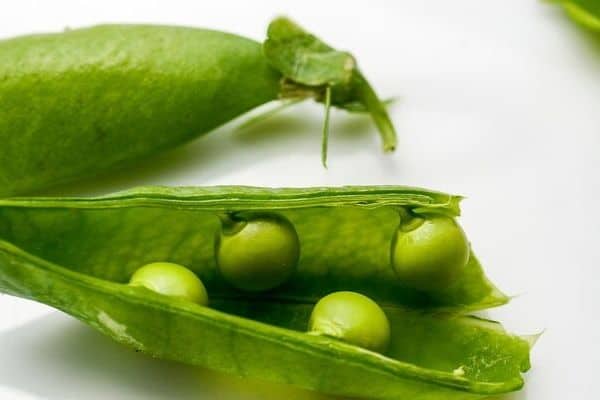 For this picture, you will need a completely different set of greens than project 1.
You can find the line art for this image here.
Materials Used For These Projects
Watercolor brush. I use a round brush but use whatever brush you feel comfortable with.
Some watercolor paper 300gsm or above weight or
A watercolor sketch pad. They are often a lighter weight mine is 230gsm
2 x Water in a jam jar or other container with water.
Tissues for wiping.
A variety of combinations of the paints are listed above. Brands used Rowney, Winsor, and newton Cotman & pro range (mostly Cotman) & shops' own brands.