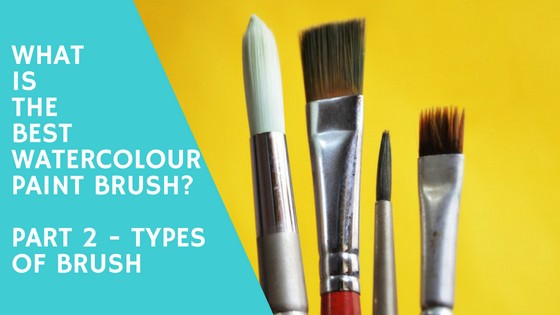 What are the different kinds of watercolour paint brush and their uses? There are many different kinds of watercolour brushes each one designed for different and specific tasks. Below I show a selection of the best watercolour brushes and shapes to give maximum flexibility in your painting.
You will need different sizes of some of these brush types though not necessarily these specific ones. That choice will depend on your personal preferences as shown in part 1.
Also, I have picked out brushes from different manufacturers to introduce you to a range of choices and let you see what each has to offer.
Money saving Tips:
Buy a beginners set of several brushes you may save money
Buy quality synthetic rather than natural bristles
Do not buy the cheapest brushes on the market they are not made so well
The Round Watercolour Brush
Round watercolour brushes are great all rounders they leave a much softer line than the flat or angular brushes and they are create for curves.  These will often be the shape brush you use the most in your art.
Winsor & Newton Series 7 Kolinsky Sable Water Colour Brush (size 6)
Wow, I'm in love!  I decided to put this brush on the list as it is amazing.  Then thought about adding it to my Wishlist as I need another size 6 brush.  Sigh, it was only then I saw the price. Which isn't huge for a 6, but enough if you are looking to get several brushes.
As a rule, I don't tend to recommend the higher priced brushes for those starting out.  And, confess I normally go for the mid range, blue or pink handles depending on the make.  But decided to leave this as an example of brush perfection.  Sigh.  (a mid-range brush would be around £7-£10 while this one clocks in at about £25.)
Perhaps, this isn't such a bad thing as it will give you an example of the best to measure against what brush you finally decide on.
It is a top of the range handmade brush which would explain the high star rating it gets.  Pure Kolinsky sable hair.  They are so soft.  It has the perfect shape with plenty of bulk to hold the paint and the finest tip.  Winsor & Newton say they use only the finest quality materials.  And that the brush has plenty of spring.
Flat Watercolour Brushes
Flat brushes

Pro Arte : Prolene Flat Synthetic Watercolour Brush Series 106 Size 1/4in
An example of a flat brush.   This one is a mid-range brush with synthetic bristles.  Pro Arte has quite a claim on this one, they say that it holds as much paint as an expensive natural hair brush.  (now should we believe them or test it against the brush above?)  (Ok, OK I admit it, any excuse to get my paws on the round brush above.)
While, I can't compare to the expensive brush I do have some Pro Arte brushes.  I have the largest in this flat series and round ones.   I can say that the Pro Arte range of brushes are lovely brushes to use with good water retention and bristle spring.
Filbert

Prolene Filbert Synthetic Watercolour Brush by Pro Arte : Series 009 Size 8
As you can see the filbert brush while also flat, has some differences.  The sides taper to a nice curved or rounded end.  These brushes are used for a variety of things.  These include making of foliage and finer detail. They are also good for creating washes of colour and curved shapes like leaves or petals.
The one used as an example here is a quality synthetic brush made by Pro Arte.  This is an 8. However, they come in various sizes and are great value for money.  They have a great spring and a really great ability to hold the paint.
Angular Watercolour Brush
The angular watercolour brush is great for getting really close to the edges of your artwork, dealing with curved edges and painting flowers etc. Some artists prefer to use these for most of their work.
These brushes are designed to deliver performance and be great value for money.
Rigger Watercolour Brush
This is a Rigger brush. It is perfectly designed and used for creating lines in your paintings. It is used for painting things like rigging, masts on boats, guy ropes and fine tree branches. A rigger typically has very long bristles and it long and thin. These brushes either taper to a point or the ends are angled or flat. Some artists use riggers with only a couple bristles for very fine lines.

Daler Rowney Dalon Series 99 Rigger Brush Size 03 C
For a rigger, I'd get slightly better quality as these brushes need to be able to create a long fine and unbroken line.  So, you want it to hold the paint well.
Fan Watercolour Brush
A Fan brush named after its shape creates a feather like textured feel on the paper and is perfect for painting things like animal fur & grass etc.
If Budgeting for Your Watercolour Brushes Isn't an Issue for You
That's fantastic as it gives you more flexibility! Although I don't recommend that you go out and buy every bush and size. It isn't a good idea – at least not to start with anyway.
Brush buying isn't just a financial issue, it is a use and knowledge one as well. You will get a lot of conflicting views on what brushes and how many to get.  There are the basics like here but in the end, it comes down to what you are painting and personal style. So, go slow and find what is right for you and enjoy the process.
However, if you get lots of brushes (which some people say you never need anyway) you may actually be harming your progress or diminishing your work as you may not know where to start and which to use. Go for a few quality top range watercolour brushes of the types and sizes required, learn to use them and find out what you like and build on them once you know.
Watercolour Brushes and Which to Use in Your Art
There is no right or wrong choice of watercolour brush types only that some brushes might suit you better than others. This will depend on you the artist, what you like to paint and your budget. Each brush type, sable, synthetic and mixed gives you different effects and each can be used in different parts of the painting. Likewise, round, angular or filbert all have their place and mark on the way the picture is created. What you will choose and what are the best water colour brushes for your own needs will depend partly on your preferences, your budget and your style of painting.This video shows them in action.